PCB of FRWD F-series GPS - Top layer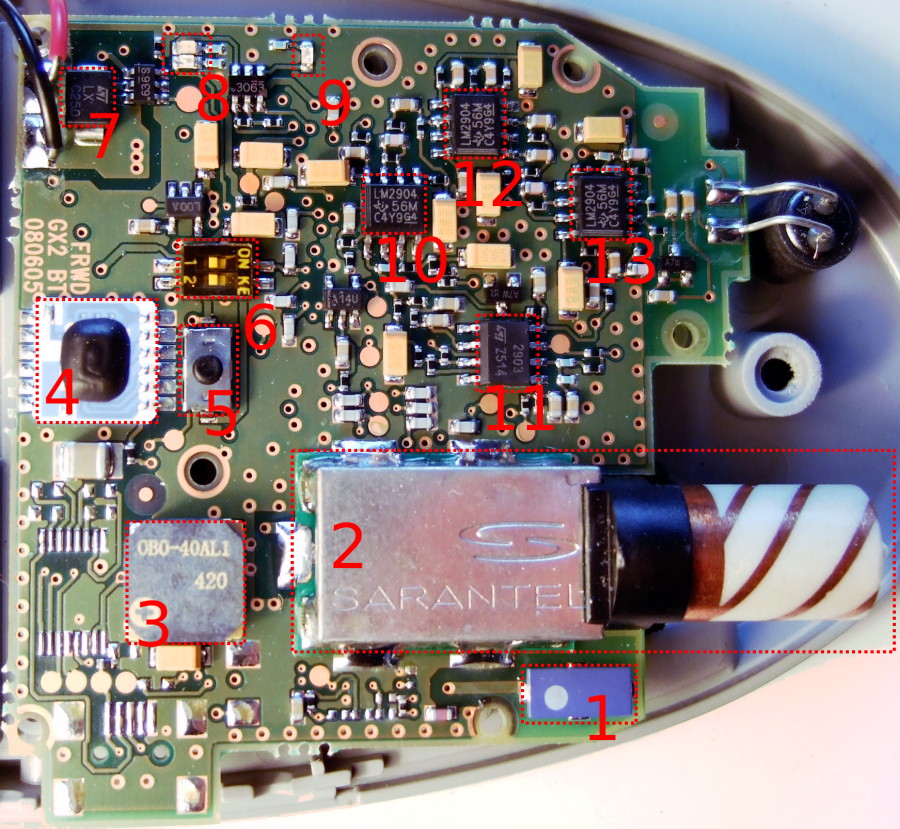 Components:
Bluetooth antenna (assumption)
Sarantel GeoHelix-S active GPS antenna
OBO Pro.2 OBO-40AL1 magnetic buzzer

Fr: 2300Hz, Sensitivity: min. 87dB / 3VDC / 10cm

Intersema air pressure sensor
Push button for the UI
DIP-switches, purpose?
ST LX C250 STMicroelectronics
Two LEDs for UI
One UI LED
Texas Instruments LM2904 dual op-amp
STMicroelectronics 2903 Z513, low power dual voltage comparator?
Texas Instruments LM2904 dual op-amp
Texas Instruments LM2904 dual op-amp
Bottom layer
Components:
Fastrax iTrax02/08 GPS receiver

8Mbit internal flash
L1, 12 channels
RF chip uNav uN8021
baseband chip uNav uN8031
1 Hz position update
acquisition time 50s (cold), 35s (warm), 8s (hot), 3s (quick)
including a proprietary 32MIPS RISC 16-bit DSP, running VSDSP RTOS

Heart rate receiver (assumption)
Radiating section of the GPS antenna
National Semiconductor LMX9820ASM Bluetooth serial port module
Air pressure sensor, front side
SG-3032 4233Q, Epson Electronics 32.758 kHz oscillator
7555 IBA P336AXH, timer?
---
paulus, 2008/06/15